QINY HQTT2011S hygiene tripod turnstile with hand disinfection function for indoor and outdoor use without shelter are designed in a popular style and provides a secure, elegant and popular-looking solution for outdoor and indoor applications. The models offer a state-of-the-art solution for entrance points of amusement parks, factories, business buildings, Museums and other sites with high requirements or design and comfort.
Descriptions
l Automatic "Anti-panic" barrier arms enable immediate clear of the passage for urgent evacuation of people in emergency case. Emergency unblocking of the turnstile is performed by input of the Fire Alarm signal to the turnstile or in emergency power failure. At that the barrier arm automatically falls down ensuring free passage.
l For HQTT2012S tripod turnstile, when power supply is restored or Fire Alarm signal is removed, the arm shall be manually set into operating position.
l The tripod turnstile is made of stainless steel which provides not only elegant design, but also resistance to corrosion when used outdoors.
l Power supply board is placed in the turnstile housing and provides a full set of the turnstile control modes. Board allows an emergency passage opening on fire alarm signal (input Fire Alarm) and has inputs for connection of intrusion detector with siren and inputs for connection of remote indicators.
l The tripod turnstile has a comfortable passage zone width (550 mm).
l To ensure fast and convenient passage it is recommended to install one turnstile per 500 people working the same shift, and on the basis of maximum working load 30 persons/min.
l Double Hand disinfectant Compartment Disinfecting Foot Mat
l Disinfectant is given to both hands at the same time.
| | |
| --- | --- |
| Characteristics | |
| Unit classification: | Semi-Automatic |
| Voltage: | AC220V±10%, 50Hz±10% |
| Logic Voltage: | 24VDC |
| Integrate sterilizer : | yes |
| Motor: | non |
| Core: | ARM |
| Throughput rate: | 30 persons/min |
| MCBF: | 5 million cycles |
| Input port: | Relay dry contact signal, DC5V-24V level signal |
| Passage directions operation model: | Single or bi-directional available |
| Temperature range: | from -15 °С to 60°С |
| Passage width: | 550mm |
Housing and arms – stainless steel.

304# Stainless steel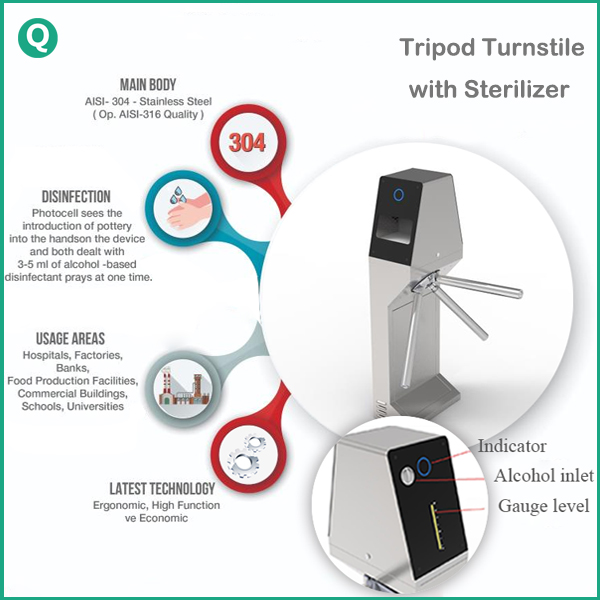 Customiztions
Materials & Finish

Housing: alternative SUS 316 Stainless Steel and Custom Design;

Finish: alternative anti-fingerprint, galvanizing or painted surface;

Hardware:

Alternative imported motor or movement;

Custom reader mounting bracket.

Functions:

Customize non-standard application according to the needs of users

Systems Integration:

Reader integration;

Access Control System Integration;

Visitor System Integration;

Camera system integration;

Remote control button;

Wireless remote control button.
QINY all turnstiles and speed gates can easily integrate with access control systems, these high quality entrance control products can provide a level of security to meet even the most exacting requirements. In case of an emergency the turnstile or speed gate can be unblocked enabling to free the passageway in case of emergency without use of any specific keys or tools. To form passageways of any required configurations and make an entrance design complete, QINY turnstiles and speed gates can be installed together with matching railings of different types.